This is going to be different from my other A to Z posts. While all the other ones are designed to illustrate that there is nothing new under the sun, this post is going to be about an area in which significant progress HAS been made - not so much because we're so awesome, but because 16th century conditions were so horrifying.
Throughout history, some cultures have tolerated (or even endorsed) homosexuality to varying degrees, but Judeo-Christian culture has never been one of them. Both the Old and New Testaments strongly condemn homosexual practice, and those proscriptions were taken seriously throughout Europe. Thomas Aquinas, who lived during the 13th century, ranked sodomy as second only to murder among all sins. But as a practical matter, during the Middle Ages the general policy was often "don't ask, don't tell." There were no police forces, after all, and presumably not many cities wanted to waste their scarce judicial resources on victimless crimes.
All of that changed dramatically during the Renaissance. Ironically, the historical period famous for major artistic, intellectual and scientific advances was also the period when most of Europe, led largely by the Catholic Church, enacted brutal crackdowns on gay people. Part of the hysteria seems to have stemmed from the fact that the practice of sodomy was widely believed to contribute to the spread of both the Black Plague and syphilis. In short, if there was a queer culture in 16th century Europe, it had to remain deeply hidden, or its members would risk being executed.
Execution of homosexual monks in Ghent
In Spain and all its colonies, the Spanish Inquisition began in 1478, and it was not formally abolished until 1834. At least 500 people were prosecuted as sodomites (a term often used interchangeably with homosexuals, although it also had broader meanings) in Spain during the Inquisition, and the first sentence of burning (to death) was carried out in 1572. Everything is relative; it's been noted that the Inquisition executed relatively few consenting adults for sodomy, focusing instead on rapists and child abusers. In 1532, the Holy Roman Empire enacted a law making sodomy punishable by death. In France, first-time offenders were castrated; second-time offenders were punished by some form of dismemberment; third-time offenders were burned. Lesbians received punishments of similar severity.
In 1533, Henry VIII of England and his pal Thomas Cromwell passed the Buggery (a.k.a. sodomy) Act, which provided that all acts of male-male sexuality were punishable by hanging, followed by confiscation by the government of all one's property. Even priests, monks and nuns, who could not be prosecuted for murder, could be convicted and hanged as sodomites. Conveniently enough for the King, this would lead to the confiscation of monastery lands. Perhaps this was why the Catholic Queen Mary abolished the Act when she assumed the throne in 1553, and why her younger sister, the Protestant Queen Elizabeth I, reinstated it when she succeeded Mary ten years later.
The city of Florence was well-known in the 15th century as one place that did have a fairly open and widespread homosexual culture. In 1432 the city established a troop of Officers of the Night, whose job it was to root out sodomy. From then until 1502, more than 17,000 men were charged with sodomy in Florence, and 3,000 were convicted.
Michelangelo, arguably the greatest artist of the Renaissance, was widely believed by his contemporaries to be homosexual. The debate as to whether or not he actually was still rages, but the fact is that he was never prosecuted for sodomy (unlike Leonardo DaVinci, who actually seems to have been asexual, but was charged - probably falsely - with sodomy by a rival painter and was jailed for a few weeks). But then again, Michelangelo was Michelangelo. His genius was undisputed, and it's reasonable to believe that he was considered above the law.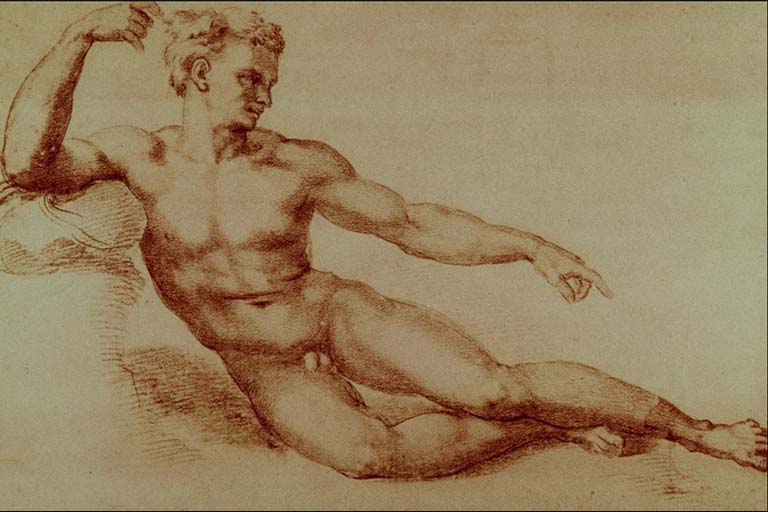 Michelangelo drawing
The persecution of homosexuals gradually became somewhat less intense during the 17th and 18th centuries, but once again, everything is relative. The first western European country to decriminalize homosexual acts between consenting adults was revolutionary France, in 1791.