You don't have to be so literal about it! Maybe there was no electric slide, per se, in the 16th century, but those guys killed it when it came to line dances!
The peasants had line dances
as well as Morris dances, which sometimes involved costumes and mumming (play-acting).
And the merchant classes had some simple circle dances,
but of course, at royal courts, everything got much more elaborate.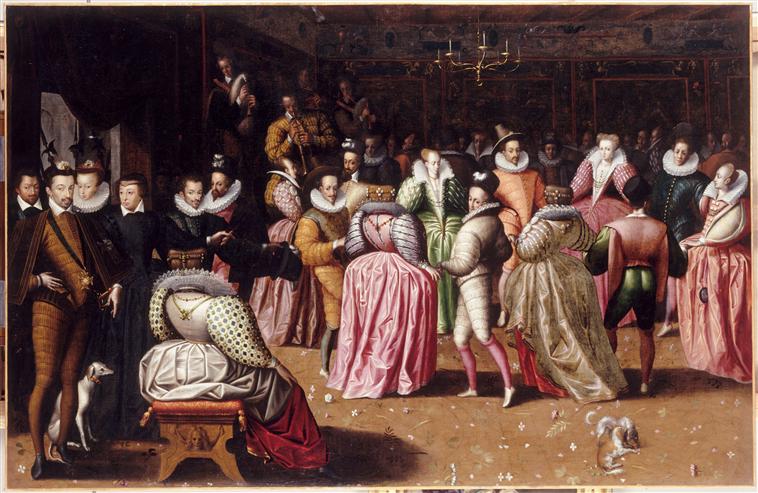 And the royals had line dances too. The Pavane, for example, was a slow, stately, processional dance for couple, like so:
and like so.
Yep, here too, with a smaller crowd.
But listen: you can't just Pavane, Pavane, Pavane all the time, am I right? Bor-ing. Sometimes you have to kick up your heels! And that's just what these 16th-century folks are doing, in a lively dance called la Volta:
Some people claim that's Queen Elizabeth I herself in the upper right, cutting a rug with her "favorite," Robert Dudley, and showing an indecent expanse of leg. And OMG, where is her partner's hand??? But I don't buy that, and neither do a lot of people more knowledgeable than me. Sure, Elizabeth had her wild side (and I bet there were plenty of coughing fits among the courtiers any time someone called her "The Virgin Queen,") but she was careful about her image, and she didn't go around making a spectacle of herself just for fun. This is just a gathering of some other partying aristocrats, whoever they may be.
So there were some pretty sprightly dances, considering how many pounds of clothing all the dancers were wearing. La Branle was a 16th-century French style of chain dance which traditionally kicked off the dancing portion of banquets. The coupled-off dancers moved mainly from side to side either in a circle or a line. It might not sound that thrilling, but there must be reasons why the name of that dance gave rise to the English word brawl!
Take that, Electric Slide!!