No one knows who first discovered that opium poppies had several valuable medicinal uses. But what we do know is that Sumerians in Mesopotamia were cultivating the plants about 5,500 years ago, and that cultivation continued throughout the Middle East for the next several millennia. The enterprising Phoenicians were the first to bring Egyptian opium on their long-distance trading voyages and to introduce it to Greece, Carthage and Europe. Much later, between 400 and 1200 A.D., Arab traders introduced opium to China. In 1527, the physician Paracelsus returned to the West from his travels through Arabia with "stones of immortality," derived from opium, hidden in the pommel of his sword, and as a professor at the University of Basel, he widely touted its use. Through experimentation, he found that opium was far more soluble in alcohol than in water, and he discovered a particular tincture of opium in brandy (to which he added crushed pearls, musk, and amber, among other things) which he found to be very useful in controlling pain. He named it laudanum, and it soon became a wildly popular component of all different kinds of medicines - for ailments from menstrual cramps to fretful babies - and remained in wide use (unnamed on product labels and unregulated by governments) throughout the West until the use of opioids first began to be regulated in the early 20th century.
But I'm getting centuries ahead of myself now. Back to the 1500's. Up to this point, opium appears to have been used by various cultures either in religious/spiritual rituals or as a surgical anesthetic. But the 16th century seems to represent the dawn of a new era. The practice of recreational drug use was born.
Poppy cultivation and opium-eating were observed in Iran at this time, and India developed a valuable export trade in opium. Nonmedicinal use became fairly prevalent in Turkey, particularly in Constantinople. A 1573 Venetian visitor to that city wrote that many of the natives he observed "regularly drank a certain black water made with opium" to which they became so addicted that if they tried to stop consuming it, they would "quickly die."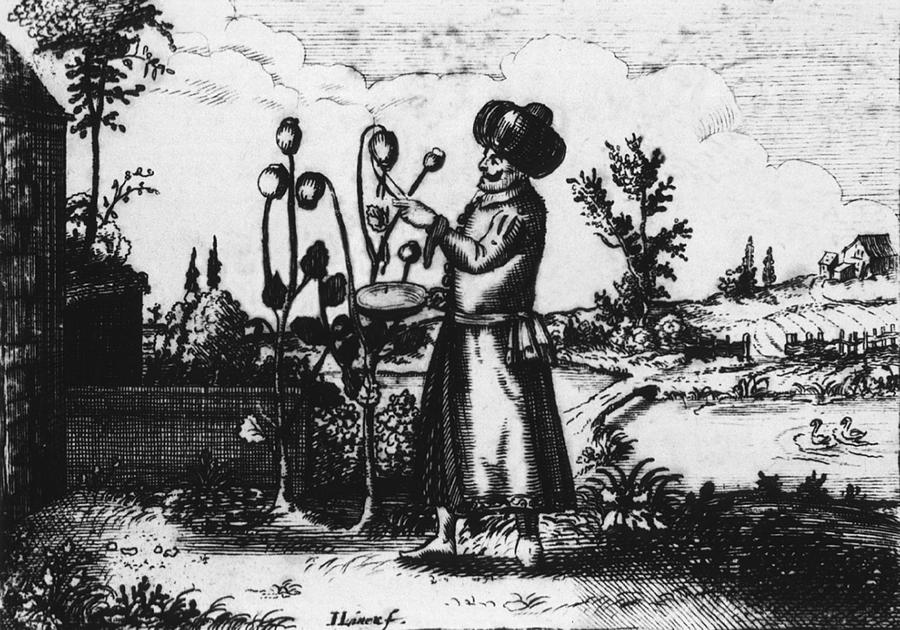 Turk cultivating opium poppies
But opium abuse hit China particularly hard. Initially, Chinese people claimed that the poppy extract was an aphrodisiac. One commentator wrote in 1483 that it was "mainly used to aid masculinity, strengthen sperm and regain vigor." He described an expedition sent by the Ming emperor that same year to obtain opium "for a price equal to that of gold." A Chinese medical textbook published in 1578 listed the medicinal uses of opium, but also noted that "lay people use it for the art of sex."
But of course, regardless of the reasons why individuals in China began using opium, they quickly became addicted. Opium dens, eerily similar to present-day crack houses, abounded.
In short, when it came to doping in Europe and Asia in the 16th century, opium was the only game in town, but it was more than enough. On top of the addiction problem, in a couple of hundred years, conflicts surrounding its international trade would lead to the Opium Wars between Britain and China (and, indirectly, to Britain's acquisition of Hong Kong). But there I go getting ahead of myself again!