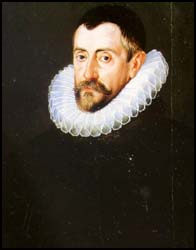 Francis Walsingham (c. 1530 - 1590) was born in London to a well-off, well-connected family and educated at King's College, Cambridge and abroad, and was admitted to the bar at Gray's Inn in 1553. Walsingham leaned Protestant; he left England for Switzerland and Italy when the virulently Catholic Mary Tudor took the throne. He continued his legal studies at Basel and Padua, and did not return to England until 1558, after Mary had died and her Protestant sister Elizabeth I succeeded her. In 1559 he was elected to Elizabeth's first parliament.
By 1569, Walsingham was working with William Cecil to search out and counteract plots against Queen Elizabeth, and he helped to foil the Ridolfi Plot designed to depose Elizabeth and replace her with her Catholic cousin, Mary, Queen of Scots.
In 1570 Walsingham was appointed ambassador to France, where in 1572 he witnessed the horrendous weeks-long St. Bartholomew's Day Massacre, in which thousands of French Huegenots (Protestants) were slaughtered. This experience marked Walsingham deeply, and in the future, whenever the opportunity arose, he showed no mercy to Catholics. He supported the torture of Catholic priests and the extraction of confessions from suspected conspirators by use of torture. He also supported giving land grants in Ireland to English settlers, who he believed would work the land more productively than the Irish had been doing. This policy fostered Irish resentment, needless to say, and the eventual result was centuries of horrific English-Irish warfare, a.k.a. "The Troubles."
Walsingham returned to England in 1573, having earned the Queen's trust by the loyalty and talent he had shown during his years in France. In December of that year, Walsingham was appointed to the Royal Privy Council, and became the Queen's Principal Secretary (an office later known as Secretary of State). In that role, he became an indispensable advisor to the Queen, second only to William Cecil, the Lord Treasurer. Walsingham was in charge of all of Elizabeth's correspondence and decided the agendas of council meetings. He was a big supporter of British trade and exploration, including Francis Drake's circumnavigation of the globe (1578-81). Perhaps most importantly, he became known as Elizabeth's "spymaster;" he employed a master cryptographer, as well as a fleet of "intelligencers" throughout Europe and North Africa that enabled him to foil many and varied plots against the Queen's life. Walsingham didn't invent spying, but he's the one who raised it to an art form.
Perhaps the most remarkable thing about Walsingham's lifelong faithfulness to Queen Elizabeth was the fact that the two of them didn't like each other very much, and they both knew it. His surviving letters (not to her, of course) contain observations such as "I would to God her Majesty would be content to refer these things to them that can best judge of them [i.e., him], as other princes do," and that there was not a councilor in her service "who would not wish himself rather in the furthest part of Ethiopia than to enjoy the fairest palace in England." But neither of them ever let their personal animosities get in the way of their professional relationship, and they worked together to their mutual benefit for over 20 years.
In 1582-83, Walsingham uncovered another plot to kill Elizabeth and replace her with Mary, Queen of Scots. The British ringleader was executed and the Spanish ambassador, who had been deeply involved, was expelled from England. By 1585 Mary, Queen of Scots had been imprisoned, and was tricked into believing that she ha a single means of secret communication with the outside world (letters hidden inside a beer keg). Those letters enabled Walsingham to prove that she had been engaged in yet another plot against the Queen's life. Mary was tried, convicted, and in 1587, despite Elizabeth's reluctance, executed.
MARY QUEEN OF SCOTS (WITH HEAD STILL ATTACHED)
From 1586 on, Walsingham began to receive reports from his spies about Spanish plans to invade England. By keeping himself well-informed on all the preparations, he was able to order counter-preparations, and thus he contributed greatly to the defeat of the Spanish Armada in 1588.
Walsingham's health had been in decline since 1571, and became very bad in the late 1580's. But he continued to work; he attended his last Council meeting two weeks before his death from cancer in 1590. His political legacy is decidedly mixed, but as a spymaster, he was second to none.